Fremont Street
Main Street Station
Possibly the best-kept secret in all of Las Vegas, nestled just a few steps north of the Fremont Street Experience, is Main Street Station Casino Brewery & Hotel. Set in the splendor of the Victorian era with a fabulous collection of antiques, artifacts and collectibles, visitors will find non-stop casino action and great dining.

Take a self-guided tour of the antiques and artifacts from around the world. The collection includes Buffalo Bill Cody's private rail car, a fireplace from Scotland's Preswick Castle, lamps that graced the streets of eighteenth century Brussels, beautiful statues, chandeliers from the Figaro Opera House and Coca-Cola building, woodwork from American mansions of long ago - and more. There's even a piece of the Berlin Wall. This odd attraction can be found in the men's room off the main casino floor.
California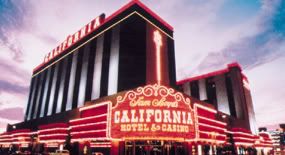 Situated in the heart of downtown Las Vegas, the Cal, as it is often referred to, has evolved through the years more than doubling in size and becoming one of downtown's premier properties.

The hotel features 781 relaxing guest rooms including 74 luxurious suites.

As you enter the California, you'll be welcomed by the richly-appointed lobby which is just a prelude to yet another highlight- the tropical motif of its guest rooms. The rooms' décor has taken a page from the Hawaiian home of many of its frequent visitors and is enchanting, comfortable, and a respite from the hustle and bustle of the casino. It offers a true island atmosphere, right in Downtown Las Vegas.

Travel across the "Bridge" that takes you over the traffic of Downtown's main thoroughfare, Main Street, and brings you right to Boyd Gaming's Victorian-themed casino, Main Street Station.
Lady Luck
Painting the Nevada sky with color and lights, the Lady Luck Casino Hotel is one of the brightest jewels in Las Vegas, Nevada. Hotel amenities include an attractively terraced outdoor pool where guests may swim and relax. The Lady Luck's dining choices include two restaurants and a buffet that offers prime beef throughout the week and seafood one evening per week. The 40,000-sq-ft casino features 28 table games, as well as 800 slot machines and video poker machines. For those interested in improving their odds, the casino staff offers gaming classes. The hotel's 738 guest rooms are comfortably arranged with custom headboards, contemporary furniture ensembles, and large work spaces.
Las Vegas Club
Experience all the best that vintage Las Vegas has to offer. The Vegas Club offers the most liberal blackjack in Downtown. Attractive accommodations at a great value. And a fantastic location that puts you in the heart of the fun capital of the world!
Binion's Horseshoe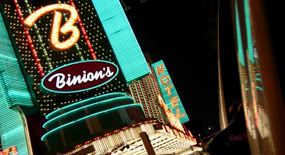 In the heart of Downtown Las Vegas, everyone's favorite place to play! Binion's offers something for everyone - from table games and slots to keno and poker. Enjoy great views and excellent dining at Binion's Ranch Steakhouse located on the 24th floor.
Fremont
The Fremont is a symbol of what visitors have always loved most about Las Vegas. It is the excitement, the hospitality, the allure of the lights and the serious gambling that has helped make Las Vegas such a premier destination. The Fremont's familiar marquee is world-famous and has been featured in a multitude of movies with downtown as their backdrop.

In addition to all that appeal, a claim to fame and part of the Fremont's success has been the incredible array of fine foods offered at their award-winning restaurants, considered by its many repeat guests as the best value downtown.

You'll see that the Fremont has all the things that have made Las Vegas one of the most fabulous cities in the world. And now, with the amazing Fremont Street Experience sound and light show at its front door, the Fremont Hotel & Casino is more exciting than ever.
Neonopolis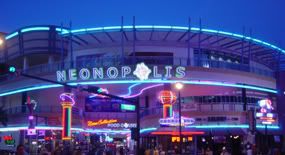 The open-air Neonopolis, a 200,000-square-foot entertainment complex in the heart of downtown Vegas, is seen by the city as the fuse to light that area's redevelopment fire.

The mall is modeled after San Diego's Horton Plaza and boasts a number of goodies -- none better than the 43,000-square-foot, two-story entertainment complex Jillian's.

Entering the property from Fremont Street, you'll find the first level is a video- and skill-game paradise (12,000 square feet of it), with skeeball, air hockey, the latest ride simulators and classic video games.

The first level also boasts the Video Cafe, a sports enthusiast's dream, with five 60-inch TVs that are great for watching football, hockey, racing -- you name it.

The café also serves up a tasty menu with signature dishes from the Kentucky-based chain, such as the delicious white chicken chili and pulled pork sandwiches. But Jillian's doesn't stop there. The HiLife Lanes, located on the second floor, have to be the coolest place in town to bowl, with its giant video walls and retro lounge. Seven pool tables also occupy the second floor, as well as the Pecos Room, a great place for your next private party.

The Crown 14 Theatres, though, seem to be the centerpiece of Neonopolis. Advertised as a place to see films that range "from adventure to indie," Crown 14 offers some of the largest theaters in town -- five auditoriums are double the size of the nine others -- and the convenience of midnight movies on Friday and Saturday, the perfect end to Fremont Street's nightly entertainment. Also, Crown 14 offers the best movie prices in town.

There's also a chance to see some vintage neon signs, and the spacious food court offers pizza, hamburgers and other fast fare.
Plaza
Even in Las Vegas, there comes a time to rest. The Plaza offers more than 1,000 comfortable and affordable rooms and suites, so it's easy to find a room that matches your mood and budget. We also offer a variety of gracious amenities to help make your stay as convenient and enjoyable as possible.
Golden Gate
Established in 1906, the Golden Gate is proud to be Las Vegas' most historic hotel/casino and the smallest hotel on Fremont Street, with only 106 rooms. Our guests can enjoy the intimate atmosphere of an historic hotel and then step outside our front doors into the grandeur and excitement of the Fremont Street Experience, with dazzling free light shows and special events. Our shrimp cocktail started a Las Vegas tradition over 40 years ago, and still is named "Best of Las Vegas" year after year. We offer great accommodations, plenty of gambling action and excellent food in a warm and friendly environment.
Fremont Street Experience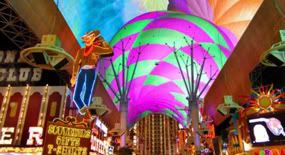 There is always something going on at the Fremont Street Experience located in the heart of downtown Las Vegas on the historic street that started it all. The world-famous, one-of-a-kind entertainment venue is home to Viva Vision, the biggest big screen on the planet. More than 12 million lights in the Viva Vision canopy and 550,000 watts of concert quality sound pumped to speakers throughout the venue produce an incredible array of eye-popping imagery and heart pounding music. Viva Vision shows appear nightly on the hour beginning at dusk and are free and open to the public. The giant LED screen towers 90-feet above a pedestrian mall lined with unique retail shopping kiosks and two permanent performance stages. Ten legendary casinos line Fremont Street Experience with more than 60 restaurants and thousands of loose slots. Free concerts, special events, and roaming street performers entertain the nearly 17 million visitors who come to experience the vintage Vegas attraction each year.
Four Queens
The most dazzling lights in the Heart of Las Vegas shine at the electrifying Four Queens. Their brilliance reflects the dynamic fun and excitement that goes on 24-hours a day. Here you can look forward to an exceptional value and a royally good time.
Fitzgerald's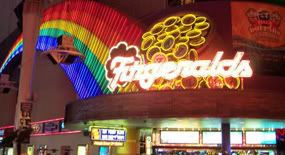 No matter what your game, you'll find exciting casino action at Fitzgerald's Casino. There's more than 42,000 square feet of gaming space brimming with the slots and table games you love to play. The huge selection of new and classic slots at Fitzgerald's is sure to keep you entertained and on a winning streak. And, with more than 20 table games, Fitzgerald's has the largest variety of tables in downtown Las Vegas, including all of your favorites like Craps, Black Jack and Roulette.
The Strip
Golden Nugget
Golden Nugget vivifies Downtown with its energizing presence. Here in the core of Las Vegas, guests are drawn to the magnetic character and charming personality of the Golden Nugget. This renowned destination focuses on fusing the best of accommodations and entertainment with down-home hospitality, all the while keeping you the center of our attention.
Stratosphere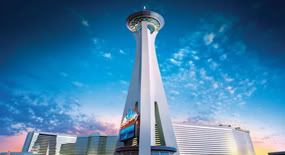 Occupants:

The Stratosphere Las Vegas is a hotel and casino located on the Las Vegas Strip in Las Vegas, Nevada. The hotel offers 2,444 rooms and an 80,000 square foot (7,000 m²) casino. The Stratosphere tower is the tallest observation tower in the United States.

The Stratosphere is the northernmost of the major Strip casinos and the only one actually in the City of Las Vegas, as the rest of the strip south of Sahara Avenue is in the suburb of Paradise. While many consider its location to be inconvenient, others feel the location is an advantage since it is equidistant between the more popular strip casinos and the downtown area (which includes the Fremont Street Experience).

It is most notable for its tower, which at 1,149 ft (350 m) is not only the tallest structure in Las Vegas, but also the second-tallest free-standing structure in the United States west of the Mississippi River, after the Kennecott Smokestack near Tooele, Utah.

The top of the tower has an observation deck, revolving restaurant and the following rides:

The Big Shot at 1,081 feet (329 m) is the highest thrill ride in the world;

Insanity the Ride, opened in 2005, at 900 feet (274 m) is the second highest thrill ride in the world, it dangles riders over the edge of the tower and then spins in a circular pattern at approximately forty miles per hour. Since its public opening, the ride has stopped twice with passengers on board (upwards of an hour each time), due to high winds that trigger a "safety mechanism" which shuts down the machine immediately without bringing the passengers back to the loading dock. The hotel is currently being sued by the first set of passengers who were trapped on the ride dangling over the edge.

XSCREAM at 866 feet (264 m) is the third highest thrill ride in the world. This ride also "drops" people over the edge, and has also stopped while people were on it, though it is not clear what triggered this ride's failure.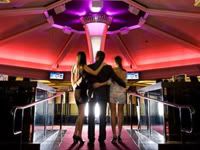 The High Roller at 909 feet (277 m) was the second highest ride in the world and the highest roller coaster. It was closed on December 30, 2005 and dismantled to make space for a new attraction.

This hotel casino is entirely run and populated by ghouls. A special fighting force of ghouls, loyal to the Sanguine, man the observation tower.

SPACE boasts a bi-level, high-energy party experience and places a roof over, in most cases, three of the most sonically sound charged rooms the scene has to offer. Calling and catering to the connoisseurs of the fine decibel,the setting pays a true homage to the arts of sound,light and magic. Equipped with the first Dynacord sound system in America and the best lighting the industry has to offer, the stage is set for a dance floor euphoria that no other club can create or even begin to imitate.

The main room is found to host an over sized dance floor immersed in the traffic of sound as VIP onlookers party above it on the upper Mezzanine level. The Terrace on the second floor rooftop includes two more VIP areas which showcase the colorful lights of the Las Vegas Strip. The club also houses a more intimate lounge with it's respective VIP area. This club covers 25,000 square feet and is the place to go for ghouls and those who love them.
Sahara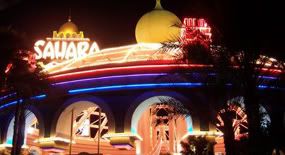 Welcome to the legendary Sahara Hotel & Casino, one of the most exciting resorts on the Las Vegas Strip! The Sahara opened its doors in the early 1950's and has hosted virtually every major star as a performer or guest ever since.

Whatever your dream, you'll find it at the Sahara - the city's hottest thrill rides, the most sought-after entertainment, more than 1,700 of Las Vegas' most comfortable rooms and suites, and the most tantalizing dining options anywhere, including four outstanding restaurants and the beautiful NASCAR Café.

The Sahara is also home to 85,000 square feet of the Strip's hottest and most up-to-date slots, including ticket in and out. Play huge jackpot progressives, lively video poker or an array of slots with our custom promotions that pay big!

The Sahara also features the popular table games that players want most and the most generous player's club in town - Club Sahara.

Every night's a party at the Sahara!
Wet N Wild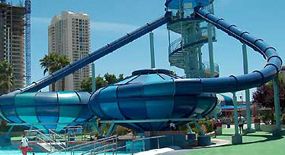 Las Vegas is a bizarre anomaly--an oasis of neon decadence in the middle of the desert-- and Wet 'n Wild is an odd juxtaposition within this bizarro zone: an ode to water fun where water is as scarce as a slot machine jackpot. When the mercury soars above 100 degrees, as it routinely does in the summer, the park is indeed an oasis. Like its Wet 'n Wild brethren in Orlando and elsewhere, the Vegas water park includes a great assortment of attractions and a few that may scare the pants, um bathing suit, right off of you.
Circus Circus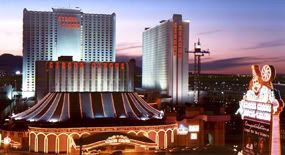 Occupants: Jo Fairchild, Kathryn Munroe, Felix James

Circus Circus Hotel & Casino is the best value on the Las Vegas Strip. Nicely appointed accommodations include over 3,700 tower and manor rooms, and suites.

The casino is actually three casinos totaling over 100,000 square feet of gaming area with 80 table games, more than 2,000 slot machines, a race and sports book and a poker room. Casino patrons must be 21 years of age or older.

The Chapel of the Fountain, our full-service wedding chapel, offers wedding packages to fit any budget. Your Las Vegas wedding will be a stress-free event with our professionals handling all the details. Make your stay at our Las Vegas hotel one to remember and renew your vows during your trip.
Riviera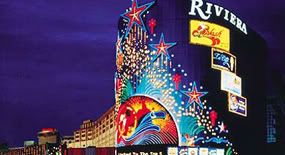 The Riviera Hotel and Casino enjoys a legendary past as one of the first top-notch Las Vegas hotels in the State of Nevada, known for its big name entertainment and friendly hospitality, as well as its worldwide name recognition. The historic Riviera is one of the State's premier destination spots offering the passion and excitement of nostalgic Las Vegas and the Rat Pack Era, combined with a modern day, multi-million dollar remodeling of rooms and convention facilities, bringing the property up to par with today's mega-resort competition.

Over 2000 refurbished oversized rooms offer maximum comfort and breathtaking views of the glittering Las Vegas Strip with its western scenic panoramas. Each accommodation has been attractively decorated, including all the important amenities Las Vegas has to offer for both leisure and business travelers. Our guests can also enjoy the Riviera's Convention Center, a self-contained full-service experience,all under one roof, serving trade shows, conferences and major corporate and industry shows alike.

At the Riviera, we take pride in serving our customers in the tradition and style that made Las Vegas famous. Offering top value for your room, food and entertainment dollar with a personal touch is in what we take pride. Our repeat business is indicative of the many fond memories created by a trip to the Riviera Hotel and Casino, the Entertainment Center of Las Vegas.
Stardust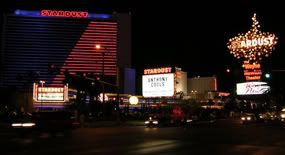 Occupants: Coyote, Kaikara Onepaw (Across from Stardust in a broken down bus)

Enjoy this classic Vegas hotel while you can. The Stardust has an 85,000 square foot casino. Two tropical swimming pools with a spa in between create a refreshing respite from the casino action. Rooms are very comfortable and rates are quite low.
Hilton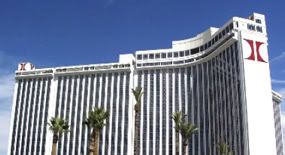 Elegant accommodations and exceptional amenities combine with our signature brand of service to create an engaging atmosphere that could only be the Las Vegas Hilton. So, relax and enjoy the view from any of our 3,000 well-designed rooms and suites.

Ready to take a break? Or are you ready to play? Escape in a game of tennis, a soothing massage, or a nap by the pool.

POOL
Swim in our pool, soak in the whirlpool Jacuzzi, and sit in the shade of your private cabana.

THE SPA
Give your body a workout. Or pamper yourself with a massage.

TENNIS COURTS
Enjoy a friendly game or take a lesson from our tennis pro. Reservations are required.
Courts: $10/hour (Hilton Guests), $20/hour (Non Guests)
Racquet Rental: $10/racquet
Balls: $5/3 balls (purchase only)
Lessons: $65/hour (Hilton Guests), $75/hour (Non Guests)
For Reservations, call 702-732-5009

REGIS SALON
Regis Signature Salon provides a full range of services including haircuts, color, highlights, manicures, pedicures, facials and make-up applications. The salon carries a wide selection of professional hair, nail and skin products. Make-over packages are available as well.

Hours of Operation:
Open daily from 9:00 a.m. to 7:00 p.m.
Phone: 702-732-5757

SPORTS ZONE VIDEO ARCADE
Located in the North Tower, the Sports Zone Video Arcade has a variety of popular, coin-operated video games. The supervised arcade features more than 25 of your favorite games, including extreme sports simulation games.

Hours of Operation:
Sunday 8am-10pm
Monday-Thursday 10am-10pm
Friday 10am-midnight
Saturday 8am-midnight

ROOM SERVICE AMENITIES
Our Room Service offers a variety of amenities and specialty items that can be ordered and delivered to your room. Options range from flowers and chocolate-covered strawberries to complete meals and light snacks.

LAS VEGAS MONORAIL
A Transportation Sensation.
Convention Center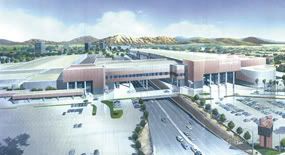 America's largest convention facility provides state-of-the-art facilities for many of the biggest conventions, trade shows and meetings in the United States, such as Comdex. Consisting of 1.9 million square feet of convention space, it features 12 separate facilities that can open into larger arenas. More than 100 meeting rooms are available for use separately or during conventions. The Grand Lobby boasts more than 85,000 square feet; banquet facilities are available for 12,000 attendees...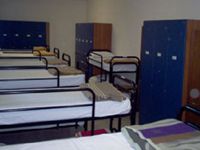 This facility has been altered to house a large number of humans that are considered 'Food'. They are used to provide blood for the majority of vampires and many are harvested for 'lycan blood hunts'. Humans are formed into 'family groups' to maintain a happier, healthier life situation until their need to be harvested for food or blood. When a human is removed permanently, it is said that they are set free and relocated so as not to upset the others.
New Frontier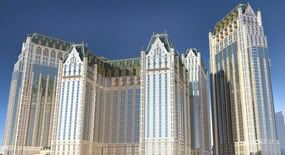 Located in the heart of Las Vegas, the entertainment capital of the world. The Frontier Hotel and Casino has beautiful rooms and suites, fine dining in our fabulous restaurants, the most rewarding player's club and the hottest casino action in Las Vegas. We're located next to Fashion Show Mall, adjacent to Sands Expo and close to the Las Vegas Convention Center. You'll love life on The New Frontier!
Wynn Las Vegas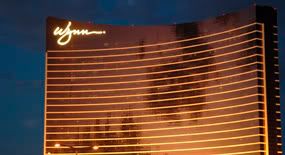 Occupants:


Tryst nightclub, complete with a dance floor that extends into yet another Wynn Las Vegas waterfall. Like every major Las Vegas casino resort hotel, Wynn Las Vegas attracts visitors with larger-than-life entertainment offerings. It holds two major theaters, one of which is a 2,000-seat domed showroom with a circular stage. On 192 acres, Wynn Las Vegas holds more than 2,700 guest rooms with floor-to-ceiling windows and a 110,000 square foot casino with several gambling areas. Standing mid-Strip, Wynn is next to the Venetian hotel resort casino. Wynn Las Vegas is across the Las Vegas Strip from the vast, upscale Las Vegas Fashion Show Mall, making it a perfect perch for passionate shoppers.
Il Cavallo Fortunato- an indoor racetrack converted from the Wynn's large convention center. Werehorses from all over Vegas race here for the entertainment and gambling endeavors of both lycan and vampire.
Fashion Show Mall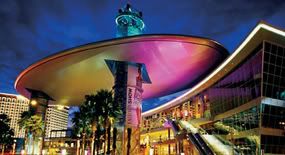 Description: The Fashion Show mall is huge with over 250 shops and restaurants and seven department stores. Located across the street from Wynn Las Vegas the Fashion Show has great restaurants, great shopping and fashion shows on the weekends.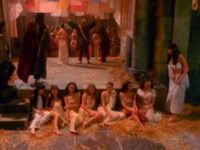 Hours: Saturday, 10 AM -8 PM

The mall serves mainly as a venue for the sale of slaves that are brought in each Friday night and put on the market Saturdays from 10am through 8pm.

75% of the mall is comprised of slave stalls. The rest is filled with restaurants, clothing stores, jewelry shops, perfumers and other luxuries. Most produce in the shops are pre-Meteor salvage.
Treasure Island
Occupants:


These days they call themselves the TI and have eliminated the all male pirate battle and replaced it with the sexy female pirate show. Not bad. The hotel still offers very nice room along with a large casino and first rate entertainment. Plus, you are in the center of all the action with the Venetian across the street and the Mirage next door. If you want shopping walk across the street to the Fashion Show mall or buy a Ferrari at Wynn Las Vegas on the other corner.
Mirage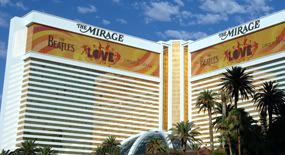 Occupants: Thomas Renfield

The Mirage is in the heart of Las Vegas and is a palace of delights, where South Seas vibe meets Strip excitement. Where soft, sunlit days give way to torrid nights. Where you are invited to experience The Mirage - REMIXED. Also has a tram that connects it to Treasure Island.

Sudore

Currently Hiring

A luxurious 2,000 square foot Burlesque club, Lounge, and Bar located at the former Japonais lounge in the mirage, overlooking the main floor of the Casino.

Owned and operated by Thomas Renfield.

Thomas is the skilled bartender of Sudore, and can mix anything to your heart's desire.

Offers an extensive drink menu and rentals for private occasions.


Hours
Monday - Saturday - Lounge, & Show
Sunday - Lounge only
8:00 p.m. until

Prices*
20 entry fee - Good all night for the bar and lounge
35 for the show
*Sanguine - Free
Venetian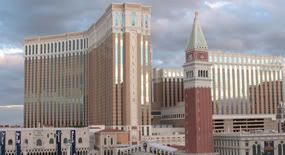 Occupants: Clay Rodrigues, Thorne Whittier, Malakai Frost, Dulcinea Bianchi, Eugenie La Fontaine

Experience the romance of Italy in the heart of the Las Vegas Strip. Beauty and grace surround you at The Venetian Resort Hotel Casino, where every detail has been carefully designed to provide you with a memorable stay – from the world's largest standard suites to the city's most elegant casino. Immerse yourself in the enchanting atmosphere of this all-suite Las Vegas hotel resort. Choose from 19 remarkable restaurants – featuring an unprecedented six James Beard Award-winning chefs, including Wolfgang Puck, Emeril Lagasse, and Thomas Keller. Browse the 80 international boutiques of The Grand Canal Shoppes, offering collectibles and couture from such renowned names as Jimmy Choo, Lladro, Dooney && Bourke, and Burberry. Rejuvenate at Canyon Ranch SpaClub – the very picture of rest and relaxation – where a full-service salon, fitness center, rock-climbing wall, and indulgent packages await. Discover the ideal Las Vegas resort vacation destination and business retreat – where exquisite all-suite accommodations, attentive service, and endless attractions converge in a magnificent setting.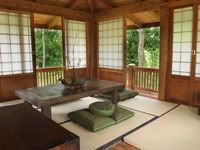 The Karyukai, born of a nod to the old traditions of Japan, is a teahouse catering to the tastes of patrons who are seeking something a little more refined. One may take tea, or indulge themselves with stronger liquors - pleasingly served by delicate beauties of either gender, according to the patron's desires.

Est. 2030. Located in what was formerly the Tao Asian Bistro. See Hatsuyuki Sesshu or Kirino Issei for more information.
Caesar's Palace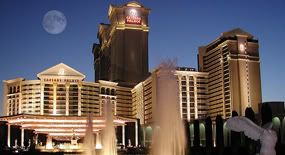 Occupants: Lucian, Lily, Valerian, Tristan Fitzpatrick, Circe Sanderson, Breeze Tavern

Caesars Palace is a hotel and casino located on the Las Vegas Strip in Las Vegas, Nevada. Caesars Palace is owned and operated by The Sanguine. Caesars is located on the west side of the Strip, between the Bellagio and the Mirage.

Caesars has 3,349 rooms in five towers: 'Augustus', 'Centurion', 'Forum', 'Palace', and 'Roman'. The Forum tower features guest suites with 1,000 square feet of space. This opulent 14 story hotel is spread over 34 acres and is themed in the style of the Roman Empire.

Also called 'The Sanguine Compound', Caesars is home to the Sanguine rulers and the vampire elite of Las Vegas. Sanguine staff,ghouls, slaves and pets are also housed here. The Sanguine rulers are Primus Lucian, Matriarch Lily, Prince Valerian and Lady Morganna, also called the Sanguine Childe.

Some of Caesars' amenities include:

Qua Spa-


Qua Baths and Spa is a luxurious retreat that taps into the natural, healing powers of water to bring you a one-of-a-kind experience. Bathed in natural light, accented by smooth stone flooring, dark woods and cascading waterfalls, Qua is the ideal atmosphere for relaxed "Social Spa-ing" (a popular concept in the vampire's world) as well as individual experiences. This tranquil environment uses the natural properties of water to soothe away stress and tension from the every day.

It's Signature Roman Rituals are at the heart of the Qua experience, bringing the traditions of the glorious baths of ancient Rome to modern times. It's Roman Baths consist of three distinct pools varying in both temperature and size. The inhabitants love to mingle as they unwind and relax. Additional Roman Rituals include the Laconium Room (an ultra-heated room), an Arctic Ice Room with snow falling from above and a peaceful tea room, where the in-house Tea Sommelier will pair teas with your particular treatment. These are all included with any treatment at the spa.

Qua Baths & Spa also features 51 treatment rooms including:
3 deluxe Couple's Studios
7 facial rooms
Wet rooms featuring Vichy showers
Our Crystal Body Art Room
The Men's Zone, including a Barber Spa
Personal hydrotherapy tubs
An Herbal Steam Room
A Cedarwood Sauna

The spacious fitness center, filled with natural light from huge bay windows, has state-of-the-art Technogym equipment for their use. An on-site fitness concierge is available to help create a personalize fitness regimen.

Venus theSalon-


Spoil yourself with invigorating facials, soothing manicures, pedicures or a therapeutic scalp treatment. Our ultimate pampering experience also features exotic aromatherapy treatments with essential oils and herbs.

Our expert technicians are trained to provide a complete, tranquil and relaxing experience. Venus also offers the finest in waxing, nail and hair treatments. Make-up application and lessons are also available to top off your new look.

The Forum Shops-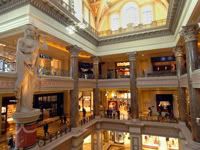 The Forum Shops at Caesars is Las Vegas' premier retail, dining and entertainment destination, featuring more than 160 boutiques and shops as well as 13 restaurants and specialty food shops. The Forum Shops have held on to their position as a most successful shopping venue through the many artisans, tailors, craftsmen and salvagers employed by the Sanguine.

A recent expansion added 175,000 square feet and additional levels that extend the mall out to Las Vegas Boulevard, where a grand pedestrian plaza creates a signature entrance for The Forum Shops at Caesars.

Garden of the Gods Pool Oasis-

The ancient Romans revered water for its healing powers. They built sumptuous public baths and set them amid fragrant gardens, exercise areas and playing fields. At Caesars Palace, we've recreated those glorious havens with our 4.5 acre Garden of the Gods Pool Oasis.

Imagine four sapphire pools and two whirlpool spas all surrounded by lush green lawns, graceful fountains and classic marble statues. Its truly a place fit for the gods, and an even better place for your group to relax and socialize.

-The Temple Pool
The circular Temple Pool is the focal point of the area with its 10,000 square feet of flowing water and is covered with a giant rotunda that tops a central island. As with all of our pools, the temple pool is decorated with fine marble and granite and rimmed with ancient mosaics.

-The Neptune Pool
This 5,000-square-foot rectangular heated pool is ideal for lap swimming and is situated in front of the Neptune Bar. This pool has three newly constructed, lavish cabanas available for a daily rental.

-The Venus Pool
This newly designed pool offers moon bathing and offers 12 fabulous pool side cabanas available for a daily rental.

-The Apollo Pool
This pool has an additional 16 pool side cabanas including two hardtop, air-conditioned cabanas. This pool offers a more intimate and relaxing atmosphere. Enjoy the fresh air and view of the magnificent surroundings of the pool area.

-Cabanas
Pool side cabanas are equipped with a stocked refrigerator and slave and is furnished with a table for beverage and snack service and accompanied by plush upholstered lounge chairs.

Main Clubs at Caesars

Looking for the best hot spots in Las Vegas? Whether it's the sophistication of world-famous PURE or the flirty fun of Shadow, your evening out in the world's most electrifying city will be unforgettable.

PURE-



With an unparalleled view of the Las Vegas Strip, PURE symbolizes a new standard in Las Vegas nightlife. With four distinct experiences enveloped in two stories of decadence, PURE is not just a nightclub; it is The Strip's first nightlife destination. At 40,000 square feet, PURE Nightclub is four venues in one, each featuring its own DJ, sound system and sexy style. Ride upstairs in the state-of-the-art, German-imported glass elevator, or ascend PURE's dramatic twisting staircase to the 14,000-square-foot Terrace, a hidden enclave offering incredible panoramic views of The Strip. All of this is connected to the hottest lounge to ever splash onto the Sin City scene. The Pussycat Dolls Lounge heats up with sizzling performances, adding another seductive element to Sin City's first true nightlife destination.

Multiple outlets are recognizing PURE's supremacy over other clubs, and it is considered by many to be the No. 1 Club in the city!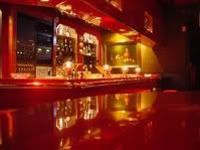 Just inside the entrance to Pure is a red door, entered with special key only, that leads downstairs to the very exclusive DANTE'S INFERNO. The entirely red club is bathed in low lighting of red, yellow and orange and clothing is forbidden. Lockers are supplied as you first descend into the club. Music is slow and sexy to pounding, featuring classical and jazz/blues/rock fusion.


HOURS OF OPERATION
PURE
Friday – Sunday, Tuesday
10 p.m. – early morning hours

Pussycat Dolls Lounge
Performances begin at 10:30 p.m.
Tuesday-Saturday

Dante's Inferno
Sunday - Saturday
08 p.m. – early morning hours

COVER
Cover charges apply pending day and special events. All guests must be 16 years old with valid ID.

DRESS CODE
Casual Chic: Fashionable attire is required. No sports jerseys, tank tops on men, tennis shoes or athletic wear of any kind will be permitted. The dress code is at management's discretion. (At Dante's, attire is forbidden).

Shadow Bar-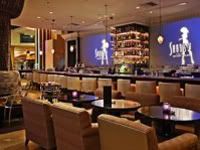 Caesars Palace once again has raised the standard of Las Vegas nightlife with its destination lounge, Shadow: A Bar at Caesars Palace. Featuring contemporary designs and eclectic furnishings, the sensual atmosphere is enhanced by provocative shadow dancers, whose silhouetted performances bring the experience to the next level.

A wide variety of high-energy cocktails are part of Shadow's exotic drink menu, and all are served with entertaining style. World-class flair bartenders juggle bottles, toss limes, twirl glasses and even do back-flips as they prepare beverages while showcasing their amazing skills. In addition, a select menu of alluring appetizers is offered in the evening, including sushi platters, smoked salmon, fresh oysters, crab cakes, fresh fruits and cheeses, and beluga caviar.

Cleopatra's Barge-



This boat rocks! Cleopatra's Barge, the luxurious floating lounge at Caesars Palace, is an ornate replica of the sturdy but graceful craft that transported the royalty of Egypt on the Nile River in the time of Julius Caesar.

Seahorse Lounge-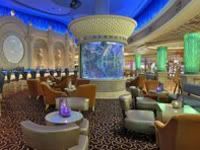 Bringing tranquilly hip nightlife to Caesars Palace, this architecturally stunning addition to the resorts lounge offerings is inspired by the captivating underwater world of mermaids and seahorses. At the lounge entrance is a towering 1,7-gallon aquarium, surrounded by guest seating that offers an inviting 36-degree view of Australian Pot Belly Seahorses the focal centerpiece of their namesake lounge.

Offering a full cocktail menu, the Seahorse Lounge features specialty martinis and a variety of more than 20 champagnes served in half-bottles and individual pops. Complementing the beverage menu is an assortment of fresh seafood appetizers. Specialty coffees and espressos, a popular morning refreshment, are always available.
Harrah's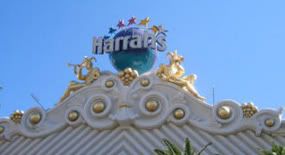 Stay at our luxurious hotel at the heart of the Strip and discover the most exciting resort in Las Vegas. We have over 2,500 beautiful rooms and suites, 86,664 square feet of casino space, seven outstanding restaurants, a sparkling outdoor swimming pool, a luxurious spa, state-of-the-art health club, full-service beauty salon, a unique variety of retail options and, of course, entertainment. There is a Las Vegas Monorail stop at the rear of the property, and a free shuttle to the Harrah's-owned Rio.
Occupants: Hatsuyuki Sesshu, Kirino Issei, Cora Neely
An older hotel that has a loyal following. The casino is set back away from the strip but you can enter from a front door right on Las Vegas Blvd. where it seems that someone is always trying to give you something. Located across the street from Caesars Palace and sandwiched between the Flamingo and Harrah's this is a great location if you want to be near the major resorts but want to pay a bit less for a room.

Lycan Children's Home-
The Imperial Palace also houses the Lycan Children's Home for lycan orphans. Several kind hearted people work to ensure the proper education and care of these children. The caretakers and teachers include: Kathryn Munroe and Cora Neely.
Sands Convention Center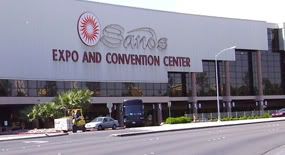 Head Wine Master: Clay Rodrigues

With its 1.8 million square feet of convention space and its proximity to the Strip (the Sands connects to the back of the Venetian), the Sands Expo Center was one of the most sought after sites for conventions and trade shows. The main level of the center features three exhibit halls with a combined 555,000 square feet, a lobby of 50,000 square feet and 32.5-foot-tall ceilings. The lower level contains an exhibition hall of 380,000 square feet.

All of this space has been converted into separate areas for wine-making, blood-harvesting, wine storage and luxury rooms for blood donors needed to create special bloodwines for the Sanguine and other wealthy clients.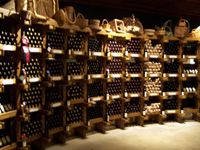 Special stores are kept for:
1) Primus Lucian - Wines blended with fetal blood.
2) Matriarch Lily - Wines blended with the blood of virgins or athletes.
3) Prince Valerian - Wines blended with the blood of teenagers.
Gold Coast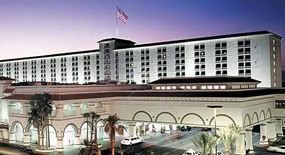 The Gold Coast Hotel and Casino is a 711 room resort destination located one mile west of the strip and one-half mile from Chinatown. Surrounded by acres of free parking and two easy access parking garages. The Gold Coast also has a free shuttle bus that carries guests to its sister properties, the Barbary Coast on the Las Vegas Strip and The Orleans
Palms
The Palms Casino Resort offers its guests some of the city's most spectacular views of the Las Vegas Strip, unique rooms, memorable nightlife venues and a bevy of dining options. From ghostbar on the 55th floor to Rain Las Vegas just off the casino, the Palms is the hotel for the MTV generation. The two luxury Playpen suites (complete with stripper poles) attract not only bachelor and bachelorette parties but also celebrities. If indoor fun is more your style, check out the 14-theater Brendan Theatres complex or stop by Hart & Huntington Tattoo Company, the only tattoo parlor in a Vegas hotel. With all these amenities and a hip atmosphere, the Palms makes every guest feel like a celebrity.
Rio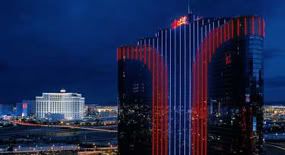 The Rio All-Suite Hotel & Casino, features spacious 600-square foot studio suite accommodations. Resort amenities include 14 award-winning restaurants, five pools including a lagoon and sand beach, full-service salon and spa including a complete fitness center, and two wedding chapels. We have the newest attraction in Las Vegas: the Masquerade Village, complete with Mardi Gras excitement and two floors of boutique shopping. It's an extravaganza that can only be found at The Rio.
Bellagio
Occupants: Al-Adil Husayn, Khulud

Inspired by the Lake Como resort of Bellagio in Italy, Bellagio is famed for its elegance. One of its most notable features is an 8 ac (32,000 m²) artificial lake between the building and the Strip. The fountain shows on the lake are a major free attraction.

Inside Bellagio, Dale Chihuly's Fiori di Como, composed of over 2,000 hand-blown glass flowers, covers 2,000 square feet (610 m²) of the lobby ceiling. The hotel also contains the Conservatory & Botanical Gardens
Flamingo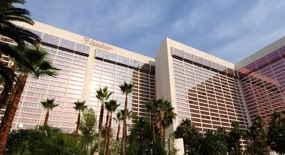 The Flamingo Las Vegas is a hotel casino located on the famed Las Vegas Strip in Las Vegas, Nevada,. The property offers a 77,000 ft² (7,200 m²) casino along with 3,626 hotel rooms. The hotel is sometimes referred to as the pink hotel due to the structure's neon pink color. The 15 ac (61,000 m²) site is landscaped in a Caribbean theme, with the central area housing an exhibit of flamingos as part of a wildlife habitat. The Flamingo has a Las Vegas Monorail station at the rear of the property.
Barbary Coast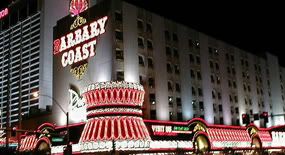 Barbary Coast Hotel and Casino in Las Vegas combines the luxury of a Las Vegas Strip hotel with a warm friendly atmosphere that guests appreciate. Conveniently located in the heart of the Las Vegas Strip, the Barbary Coast is short walking distance to Bally's, Caesars Palace, Bellagio Las Vegas, Paris, Flamingo Hilton and numerous other famous Las Vegas hotel and casinos. The Barbary Coast is also home to two award winning gourmet restaurants, Michael's and Drai's on the Strip. Players can enjoy their favorite table games, slots and video poker machines on the luxurious casino or bet on their favorite team in the Race & Sports book. Guests can also listen to fabulous entertainment in the casino lounge. The Barbary Coast is Las Vegas at its best.
Westin Casuarina
Occupants:

The Westin Casuarina Las Vegas Hotel, Casino & Spa provided 816 contemporary guest rooms and 10 elegantly designed suites, all rooms feature the Westin Heavenly Bed®, Heavenly Bath®, dual-line telephones and elegant granite bathrooms with deluxe spa amenities.

It is conveniently located just one block from the famous Las Vegas Strip

Renovated to house Peace Keeper HQ, the Westin offers 20,000 square foot of meeting space, state-of-the-art equipment in a WestinWORKOUT® Powered by Reebok Gym and an outdoor heated pool.

Left in operation for the relaxation of off-duty officers is the Hibiscus Spa, a sanctuary in the midst of bustling excitement. Relax and release your stress and tensions in a 10,000 square foot state-of-the-art facility, featuring a total of 15 treatment rooms for facials, massages, and Vichy shower. Pamper yourself in a full service salon with a therapeutic pedicure, manicure and hairstyling. Complete the experience by rejuvenating in dry and wet saunas or outdoor Jacuzzi and pool with private cabanas.

The lower floors comprise all of the facilities holding cells, meeting rooms and interrogation rooms. On the upper floors are the aforementioned guest rooms for officers who chose to live here.
Bally's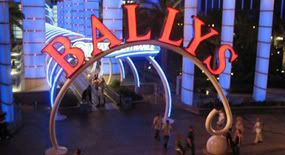 Occupants: Viper Washington

The hotel has 2,814 rooms that are 450 square feet (41.8 m²) or larger. The hotel has over 175,000 square feet (16,258 m²) of banquet and meeting space. It also has a 67,000 square feet (6,225 m²) casino.

Bally's is home for the long-running production show Jubilee!.

One of the signature features of this hotel is the neon lighting wrapped around the covered moving sidewalk that brings guests from Las Vegas Boulevard to the entrance of the casino.
Paris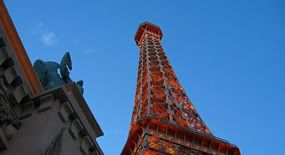 Occupants:

As its name suggests, its theme is the city of Paris in France; it includes a 1/2 scale, 540 foot (164.6 m) tall replica of the Eifel Tower, and a neon sign in the shape of the Montgolfier balloon, a two-thirds size Arc de Triomphe, and a replica of La Fontaine des Mers. The front facade of the building suggests the Paris Opera House and the Louvre.

Its adjacent sister property, Bally's Las Vegas, has a Las Vegas Monorail station.


Aladdin
The Aladdin is an Arabian Nights themed hotel and casino located on the famed Las Vegas Strip in Las Vegas, Nevada at 3667 Las Vegas Boulevard South. The hotel has 2,600 rooms, a performing arts theatre, and a 475,000 ft² (44,000 m²) shopping arcade called the Desert Passage
Polo Towers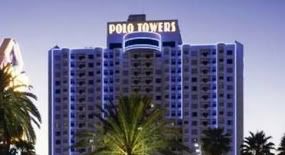 Occupants:

Welcome to Las Vegas and welcome to Polo Towers, located in the heart of the world famous Las Vegas Strip where you will enjoy the casual comforts of a "home away from home" at one of the most exciting vacation destinations in the World.

Luxurious one and two bedroom accommodation, either in our Suites or Villas, feature elegantly appointed living, dining and sleeping areas. There's plenty of room to relax and you'll enjoy panoramic views of Las Vegas from your private balcony.

Amenities at the resort include a state-of-the-art fitness center, a rooftop pool and spa for adults, and a family water park & play area.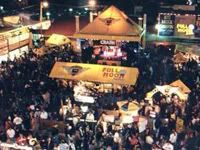 Full Moon Saloon

Owner: Ulysses Xavier Knox, a.k.a. 'Papa Bear'
Bartenders: Kaden
Bouncer and Weekday D.J.: Viper Washington
Part-time Bouncer: Gunnar Eriksson
Weekend House Band: The Vixens
Hours of operation: 5:00pm-3:00am
Closed during full moons, ironically.

Rules:
-16+
-No Fighting
-No Bothering other patrons

On the site of the old Harley Davidson Cafe, The Full Moon Saloon was the brainchild of Ulysses X. Knox. The old building was gutted and renovated to be, not only, Vegas' premiere lycan bars, but a very popular place for all, especially on weekends.

A spin-off of the enormously successful Pangaea lounge in pre-Meteor New York City, The Full Moon Saloon is the next chapter in what has been called a Las Vegas nightlife institution.

The Full Moon Saloon was hailed by the Las Vegas Post as "the hottest place on the Strip" and "a hangout for top models and celebs".

The Saloon is an appealing mixture of Asian, African and European elements. The atmosphere pays tribute to the Dark Continent, with West African adobe structures, animal skulls, spears and cartographic art.

Candlelight casts eerie shadows across tribal artifacts, conveying the sense of being on an elegant Serengeti safari. This beautifully finished interior also features airy cotton sheets draped high above wooden tables and plush lounge seating.

From the DJ booth elevated above the back bar, the DJ plays pre-Meteor international lounge beats, house, rock and hip-hop accompanied by live rhythms of Congo drums, tambourines and maracas.



The addition of separate outdoor garden seating marked by an elaborate fire pit, beckons all to become part of the party at The Full Moon Saloon. The patio also provides a tranquil option for sunset cocktail receptions or to simply celebrate under the stars.

Although this venue is open to vampires and ghouls as well, the clientele still seems to remain, on average, 90% lycan.

Unknown to owner and businessman, Knox, his bar is headquarters to the Lycan Domination Front.
Hard Rock Cafe
The Hard Rock Hotel and Casino is a hotel-casino located in Las Vegas, Nevada. The property has a 650 room hotel and 30,000ft² (3,000m²) casino.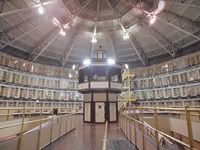 The Hard Rock Hotel and Casino is an expansion of the Hard Rock Cafe franchise.

It is known for its youthful appeal, elaborate swimming pool area, and exclusive nightclub Body English. Along with the The Palms (another off-strip resort) the Hard Rock both appeals to the 21 to 30 crowd and those who enjoy the Neo Retro feel of Las Vegas.

The Hard Rock Cafe itself was kept intact and used as a place for Prison staff to eat, drink and gather. The hotel was gutted and restructured as a high security prison for vampire and lycan prisoners that the Sanguine want alive for various reasons.
Monte Carlo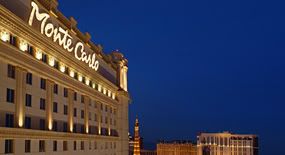 The Monte Carlo Resort and Casino is a hotel and casino located on the famed Las Vegas Strip in Las Vegas, Nevada - it is currently owned by MGM Mirage. The hotel offers 3,002 guest rooms, including 259 luxury suites. The hotel currently has an AAA rating of four diamonds. The hotel, modeled after the opulent Place du Casino in Monte Carlo, features chandelier domes, marble floors, neoclassical arches, and promenades. Guest room features include Italian marble, and cherry furniture.

The resort has a grand lobby, shopping mall, convention facilities, a spa, fitness center, tennis courts, a large pool area which includes a wave pool and a lazy river tubing ride and a wedding chapel. Tram service shuttles visitors between the Monte Carlo and Bellagio every 10 minutes.
New York, New York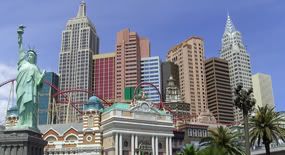 Occupants: Gunnar Eriksson, Bjorn Sorensen, Nikolai Jorgensen

New York-New York Hotel & Casino is a hotel and casino located on the famed Las Vegas Strip at 3790 Las Vegas Boulevard South, Las Vegas, Nevada. New York-New York uses the New York City theme of its name in many ways. Its architecture creates an impression of the New York City skyline; the hotel includes several towers configured to resemble New York City skyscrapers, such as the Empire State Building and the Chrysler Building. In front of the property is a pool representing New York Harbor, with a 150 ft (46 m) tall (half-scale) replica of the Statue of Liberty, a roller coaster, and replicas of the Brooklyn Bridge, Soldiers and Sailors Monument, the Whitney Museum of American Art, and Grand Central Terminal, among other well-known structures. Within the resort, particular gambling areas, bars, eating areas and meeting rooms are named after New York City neighborhoods or landmarks. The main casino area, for example, is named after Central Park, while the "Village Eateries" food court is modeled after New York City's Greenwich Village, even including real menus from New York Chinese takeout restaurants taped to the doors of the mock apartment buildings. New York-New York uses the trademarked slogan "The Greatest City in Las Vegas". The resort is located on the northwest corner of Tropicana - Las Vegas Boulevard intersection. At street level, pedestrians are blocked from crossing by concrete barriers. Instead, New York-New York is linked by overhead pedestrian bridges to its neighboring casinos to the south (the Excalibur, across Tropicana Avenue) and to the east (the MGM Grand, across the Strip).
The Orleans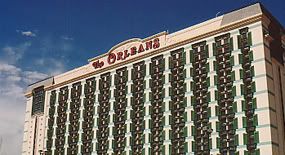 The Orleans proudly offers 1886 beautifully appointed rooms and suites featuring the ultimate in luxury and comfort. Our oversized rooms are actually "Petite Suites" with separate sitting areas. The Orleans' exquisite one and two-bedroom suites provide all the conveniences of home. Spectacular views face the glittering Las Vegas Strip or the sweeping mountain panoramas surrounding the Las Vegas Valley. Free shuttle service is available to our sister properties The Gold Coast and The Barbary Coast.

Please enjoy the fabulous amenities the Orleans has to offer: Spa, Vintage Movie Theater, Bowling, spectacular restaurants and always incredible entertainment.


The Orleans is also the home of the gladiator arena, situated just to the left of the hotel/casino. Current Gladiators include:

Overseer of Games:

Current Servants:

The arena has numerous amenities such as granite floors, the highest restroom-to-guest ratio of any facility in the country, a private concourse level with 24 suites and 220 club seats and an audio/video system replete with two LED video screens and an LED wraparound video system. The Orleans Arena also has the largest upholstered arena seats in the valley and wide aisles, providing added comfort. There is a new sublevel added Post-Meteor which consists of gladiatorial cells, training rooms, weapons rooms, guard posts and servant quarters. 4 suites are reserved on the concourse level for the 4 most successful gladiators and their servants.
Excalibur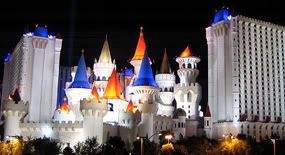 Occupants:

The Excalibur Hotel and Casino is a hotel and casino located on the Las Vegas Strip in Las Vegas, Nevada, in the United States.

Excalibur, named for the mythical sword of King Arthur, uses the Arthurian theme in several ways. Its facade is a stylized image of a castle, with a wizardlike figure representing Merlin looking out from a high turret.

Excalibur is situated at the Tropicana - Las Vegas Boulevard intersection. The intersection were so busy that pedestrians were not allowed to cross at street level. So, Excalibur is linked by overhead pedestrian bridges to its neighboring casinos to the north (the New York-New York Hotel & Casino, across Tropicana Avenue) and to the east (the Tropicana Resort & Casino, across the Strip). There is also a free tram that connects Excalibur to its sister MGM Mirage properties to the south, the Luxor and Mandalay Bay hotel and casinos. The three casinos are also connected to each other, so it is possible to walk between the three of them without having to go outside.

Restaurants and other areas have Arthurian names, such as the Roundtable Buffet, Sir Galahad's Prime Cuts, The Steakhouse of Camelot, and Regale's Italian eatery, or reflect a broader "ancient Britain" theme, such as the Sherwood Forest Cafe. A long-running show, the "Tournament of Kings," features simulated medieval jousting.

The Castle is open to all, including human breedng stock (When they are given a period of R&R). The castle includes...
-Casino: Yes, 100,000 square feet. Casino games include Blackjack, Caribbean Stud Poker, Craps, Keno, Let It Ride, Pai Gow Poker, Poker (7-Card Stud and Texas Hold 'Em), Roulette, Slots, Video Poker, Video Keno, Big Six Wheel, Mini-Baccarat and Megabucks. The casino has a poker room.
-Restaurants: The Excalibur has the following dining options: The Steakhouse at Camelot, Sir Galahad's Prime Rib House, Regale, Sherwood Forest Cafe, Roundtable Buffet, Krispy Kreme and a food court.
-Entertainment: King Arthur's Arena, a 900-seat Amphitheater with two dinner shows nightly of Tournament of Kings; catch male and female dance troops or enjoy one of the city's top comedians; Fantasy Faire features carnival games and two motion-simulator rides; and The Court Jester's Stage features free, live variety acts including jugglers and magicians.
-Nightlife: Yes, the 100-seat, biker-themed Octane Lounge offers live entertainment, a full bar menu and signature cocktails. Attractions: Merlin's Magic Motion Machines.
-Pool: Yes
-Health Club: Yes.
-Spa: Yes, the 13,000-square-foot Royal Treatment Spa & Fitness Center offers multiple types of massages and services. A salon is located outside the spa in the hotel.
-Shops: Specialty shops.
-Wedding chapel: Yes, the Canterbury Wedding Chapel offers a number wedding ceremonies for those who hold to such outdated traditions.
-Convention rooms: Yes, banquet and meeting facility houses more than 12,000 square feet of space.

The towers to either side of the castle house...
* a total of 4,008 rooms
* Breeding Rooms
* Personal rooms for breeding stock
* Nursery and child care
* Medical care
* Fertility labs


Breeding process and details...
-When a female is chosen to breed, she will be coupled with the chosen male every other day until pregnancy is indicated.
-Before a coupling, the male and female are kept in seclusion for a week and monitored against self pleasuring.
-Before each coupling, both humans are well fed on a special diet,washed and groomed.
-All humans within this facility are healthy and attractive and tested for high level fertility.
-Humans are each supplied with their own rooms. Breeding rooms are located on se per ate floors.

Luxor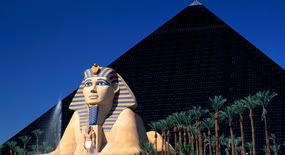 Occupants: Jaron LeJeune, Star Crandall, Mike Vega


Luxor Brothel and Hotel
Owned and Run by Sanguine Appointed Employees
Escorts: Jaron, Star & Mike
Bartenders: Greg and Jane
Lifeguards: Logan and Mitch

Rules of the Game:
1.) Age is a number and a requirement here. 16+, please.
2.) Payment vouchers are the only acceptable form of payment.
3.) Our staff takes pride in their appearance, so should you. Although your clothing will be removed, it's a must when walking out of the hotel rooms.
4.) Athletic shoes are required for the fitness center. Bare feet are not acceptable, except in the spa and pool areas.
5.) Abuse of any kind is not tolerated.
6.) 16 and up at the Casino please.
7.) Hours of Operation - Open 24 hours, 7 days a week.
8.) Please check luggage at the front desk.
9.) Check in is at 5 PM. Check out is 2 PM.
10.) No weapons please.
11.) To prevent STD's, pregnancies, etc. We ask our clients to use the appropriate requirements for safe sex. Not all our staff are immortal, they can get and are susceptible to diseases.
12.) Extra hotel towels and other amenities are available at no charge.
14.) No deposits or down payments are necessary.
15.) No pets, sorry.
16.) Enjoy your stay, and remember to "please cum again."

With indulgences for the comfort and pleasure of its guests, Luxor offers an unforgettable getaway. Amenities include a fitness center, spa and whirl pool, casino, and golf course. Although we offer a wide variety of indoor activities that will satisfy your sweet tooth. Las Vegas entertainment is hotter than ever! At Luxor Las Vegas, our staff reveal seductive secrets & sensual desires. It's the ultimate adult revue created to excite couples, singles, swingers, and everything in between. Finally a Brothel featuring stunning women, handsome men, and a sex drive to keep you satisfied no matter what day it is . Our men and women engage their customers, conveying wild fantasies and secret seductions. Come see why sex really does sell here! Unleash the Passion. Let Your Imagination Run Wild. Whether you have an inquired taste for blondes, brunettes, or red heads, the Luxor offers them. Our staff know how to please, fulfill your fantasy, and keep you coming back for more. Play the hottest slots and table games to win your fortune at the one and only Luxor Casino.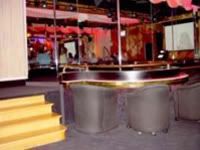 Hips & Hearts
Hips & Hearts has a crystal clear sound, exciting, brilliantly colored lighting, and the charm and ambiance of any high-end venue. Entertainment is common, including go-go dancers on the bar to a full Moulin Rouge style chorus line on our lush, Victorian styled stage. Aerialists may be seen perform above the dance floor on the elegant swing, or with silk tumbling and spinning to the delight of the crowd. Hips & Hearts is made up of a main floor room, mezzanine, bars, lounges and a lobby. The partygoers at this venue are trendy and mature. Live performances, hip-hop, r & b, rock and house music played.

Owner: Sanguine
Strippers: Gunnar, Bjorn, Peaches, Frankie and Cheyenne
Security / Bouncers: Nikolai and Harlan
Opens: 8:00 PM-4am
Age: 16.
Coverage charge: 20 vouchers
Lap Dances: 40 vouchers

Rules & Regulations:
1.) 16 and up
2.) Clothing is required
3.) No weapons
4.) No harassment of dancers or staff
5.) No photography or other surveillance devices
6.) Violence is not tolerated.
7.) Enjoy the show

Tropicana
Occupants: Skyler Davis, Zack Davis,Shadrach Davis, Cerah Davis, Ty Mingan, Kylie van Meter, Cassandra Walker

Located on the most exciting and glamorous corner of the world, the Tropicana Resort and Casino boasts 1,874 rooms and suites overlooking the famous Las Vegas Strip and five-acre garden and pool area. It offers a unique experience with swim-up blackjack and 60,000-square-feet of casino action.

Whether it be a light snack or an elegant dinner, the Tropicana has seven restaurants offering world-class dining to satisfy appetites of all ages.

Looking for around-the-clock entertainment? The Tropicana has entertainment featuring extraordinary magic shows during the day as well as the longest running stage production in Las Vegas, Folies Bergere, for your evening pleasure. You can also enjoy one of three swimming pools, or perhaps choose to relax and be pampered in the health spa. The Tropicana is truely an exciting paradise!


Their most popular club is 'Club Paradiso', which is mainly frequented by lycans, but enjoyed also by vampires and ghouls. The ration tends to be 60% lycan and 40% others. The decor is a fantasy-like cross between Rio de Janiero and Mt. Olympus.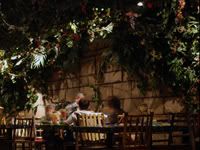 The newest club is 'Amazon Blues'. It is mostly frequented by lycans, but everyone is invited. It is a jungle themed jazz and blues bar that serves liberal amounts of alcohol. With a waterfall behind the bar, patrons are surrounded by large palm fronds and other luxurious plant life. It is definitely the place to go to relax and enjoy some light dancing and sentimental music. With a large dance floor in the middle of the bar, there is plenty of room to dance the night away.

Special note: The Tropicana was once the power center of Las Vegas when the Lycans ruled. The deposed ruler, now Lycan Chancellor, Skyler Davis, still resides there with his family.
Mandalay Bay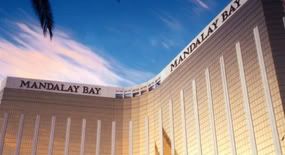 Occupants: Annabelle Sharpe
Mandalay Bay Resort and Casino has 3,309 hotel rooms and a casino of 135,000 ft² (13,000 m²). The adjacent Mandalay Bay Convention Center has almost one million ft² (93,000 m²) of space. Mandalay Bay features the 11-acre (4.5 ha) Mandalay Beach with two heated pools, a wave pool, topless pool and a lazy river that features a small waterfall. There are also two restaurants at the Beach. The pool area is considered among the best in Las Vegas.

In keeping with the resort's tropical Asia theme (the resort takes its name from Rudyard Kipling's poem Mandalay), it features the Shark Reef, a saltwater aquarium containing over a million gallons (3.7–million l) of water. Another popular attraction is the House of Blues, a venue for live music and a restaurant, with a capacity of approximately 1,800. On the top floor of the hotel is the House of Blues Foundation Room, featuring a dining room, private dining rooms, and a balcony looking down the Las Vegas Strip.


MGM Grand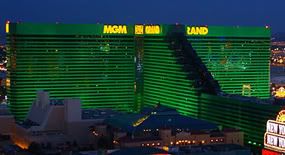 Occupants: Zayd al Dimashqi
The MGM Grand Las Vegas, which opened in 1993, is a hotel casino located on the Las Vegas Strip in Las Vegas, Nevada, United States, as a Hollywood themed resort. It is the world's largest hotel building, with 5,044 guest rooms, (including 3,153 no smoking rooms). In addition, rooms are available in the three The Signature at MGM Grand towers each with 576 suites, SKYLOFTS at MGM Grand with 51 lofts or the The Mansion at MGM Grand with 29 villas.

The 30-floor building is 293 feet (89 m) high and features five outdoor pools, rivers, and waterfalls that cover 6.6 acres, a 380,000 square foot (35,000 m²) convention center, the MGM Grand Arena, CBS Television City, and the Grand Spa. It also houses numerous shops and night clubs, nine restaurants, two food courts, and the largest casino in Las Vegas, which occupies 171,500 square feet (16,000 m²).
LOCATIONS OFF THE STRIP
Hoover Dam
Occupants: Cormac Kilbride, Jade Wilson, Abigail Hayes